Situation is still uncertain as negations between Govt and TLP has failed during second sit-in however Govt claimed to have it on going in the 3rd session and hopefully they will manage to get some results out of it.
What is really going on in the country at the moment?
SC 3 top judges gave there verdict in favour of Aisa Bibi, who was jailed for 8 years in Blasphemy charge. Top judges ordered to release her right away as not enough proves were proven.
Almost every political party, civil society, general public and intellectuals from various professions accepted the decision of Supreme Court.
WHO DID NOT?
2 years old self claimed so called religious group erupted and gained a face value under the identity of (Tahreeq e Labaik Pakistan) TLP. It would be a long discussion how they were used in different situation against the sitting government of the time in which we wont go. With no appreciation from any other group and sect of religion they got sourced from unknown. Now as they have few months of history and forcefully having the charge of blasphemy not ready to accept SC decision.
The release of a Pakistani Christian woman who was acquitted eight years after being sentenced to death for blasphemy has been delayed.
Asia Bibi was convicted in 2010 after being accused of insulting Islam's Prophet Muhammad in a dispute with her neighbours.
The mother-of-three, 47, has always maintained her innocence – but has spent the majority of the past eight years in solitary confinement.
Her release was delayed following protests by radical Islamists, who want her publicly hanged, and failed talks between them and the government.
There are list of areas PSCA issued for the general public to avoid and they are as follows
In a bid to facilitate the general public of Lahore, Punjab Safe Cities Authority (PSCA) has issued a list of points which are closed for commuting purposes. There are total 39 points which are closed for traffic, see them below:
Imamia Colony, Shahdara

Shahdara Mor

Azadi Flyover

Faisal Chowk

Qartaba Chowk towards Ganga Ram Hospital

Bhatta Chowk

Chungi Amar Sadhu

Thokar, Multan Road

Ring Road

Saggian Road

Khana Kaccha Road + Flyover

Ring Road ( Karol Ghaty + Nizai Chowk)

Madre-e-Millat Road (green town)

Muhafiz Town

Ghazi Road Towards Kasur; see the complete list below: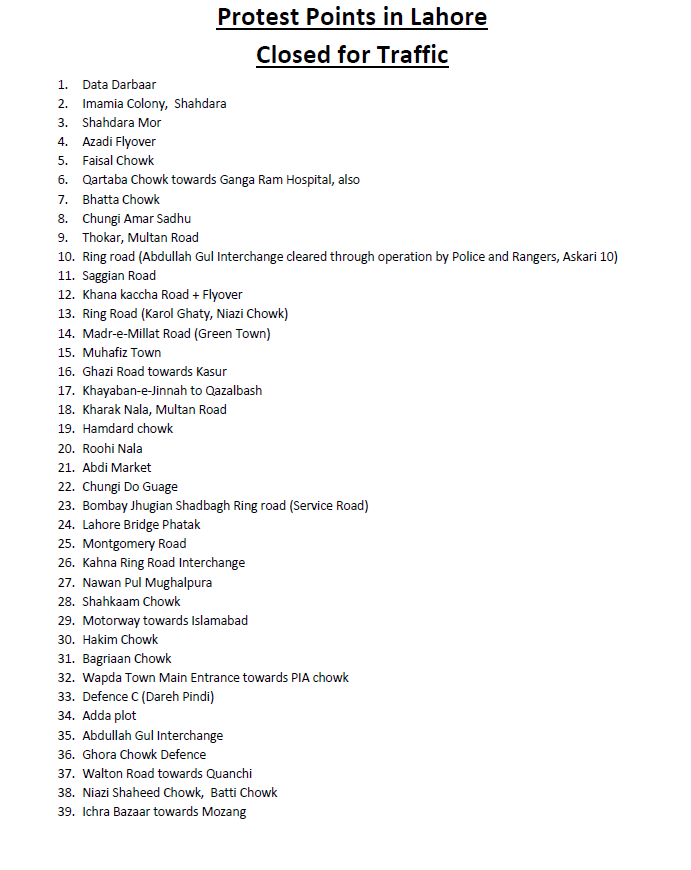 Due to prevailing law and order situation in Lahore, it is advised not to travel in the city without any important work, avoid dangerous points while travelling as pointed out by the authority. Keep checking PSCA and Lahore traffic police site to get a clear picture of the traffic and road blockades within the city before travelling. Also, call 15 in case you get any kind of emergency.