It's hard to say what causes cryptocurrencies to go up or down on any given day. In recent months, Bitcoin and other cryptocurrencies have exhibited classic signs of a speculative bubble, with millions of ordinary investors flooding into the market in hopes of making an easy buck. That helped to push Bitcoin to new heights, but it also heightened the cryptocurrency's already significant volatility.
Investors in South Korea and Japan, the two largest cryptocurrency trading nations, were sitting on the sidelines Tuesday waiting for the regulatory uncertainty to clear before placing further bets, said Greenspan. He believes the light trading volume caused bitcoin's price to plunge.
Bitcoin approached a record $20,000 in mid-December as it launched on futures exchanges in the United States. But it has since fallen sharply on intense regulatory scrutiny.
Speculators across the globe are struggling to determine when or how market watchdogs may rein in an industry that's decentralized and derives much of its value from anonymous ownership. Many assertions that digital coins represent a bubble have triggered double-digit selloffs over the past year, only to be followed by rebounds.
January's cryptocurrency selloff got fresh impetus on Tuesday when Bitcoin slumped as much as 25 percent, as the prospect of regulatory crackdowns appeared to spread.
In South Korea, shutting down cryptocurrency exchanges is still an option, Finance Minister Kim Dong-Yeon said in an interview with TBS radio. But measures first need "serious" discussion among ministries, Kim added, holding out hope for traders that a crackdown won't go that far. Kim said there's irrational speculation and that rational regulation was needed.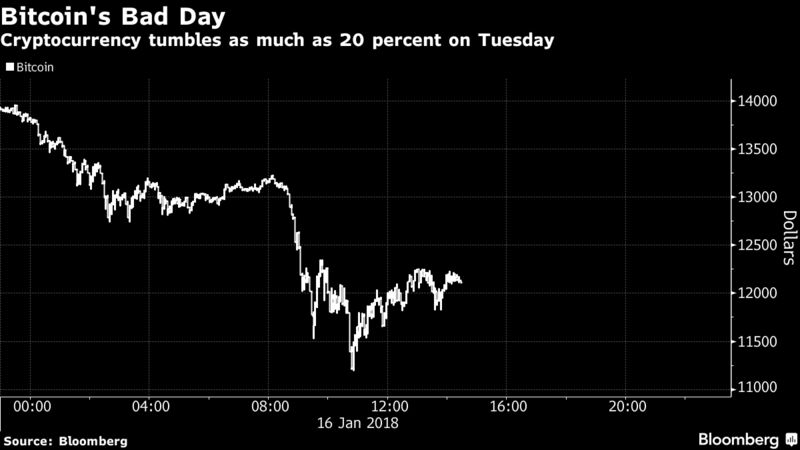 The price of the volatile digital currency dipped below $11,000 around 5 p.m. ET on Tuesday, its lowest level in more than a month, according to data from CoinDesk.com.
Other popular cryptocurrencies ethereum and ripple also posted double-digit losses.It's unclear why bitcoin fell. Cryptocurrency is a murky market with frequent swings.
"Volatility is quite common in the cryptocurrency world," said Mati Greenspan, a Tel Aviv-based analyst at investment firm eToro.
The plunge follows a Bloomberg report on Monday that Chinese officials were stepping-up measures to limit cryptocurrency trading, which is already banned on exchanges