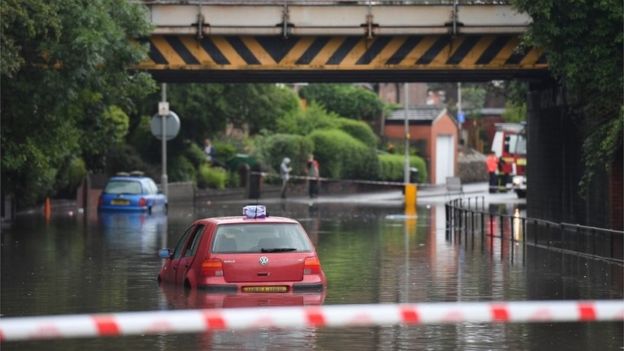 Get Latest updates about the flood situation in GB
Rescue continues in flood-affected areas across the UK
Warning and updates about flood areas
A day of heavy rain has led to 16 flood warnings across the North West, the North East, Yorkshire, and the Midlands.
Cheshire Fire and Rescue Service declared a major incident amid widespread problems in Poynton.
Vehicles were left trapped in the town, and a nursery, several homes, and a farm were also swamped.
Firefighters said they rescued 11 people from floodwater, and warned those in the area against taking to the roads.
Motorists were urged to drive only if "absolutely necessary", and Poynton's town clerk said people affected by the flooding were welcome at the town's civic hall.
Neil Griffiths, from Cheshire Fire and Rescue Service, said floodwaters were beginning to recede on Thursday night.
Fear DAM may not resist pressure or collapse
UK flood warnings to all affected areas been circulated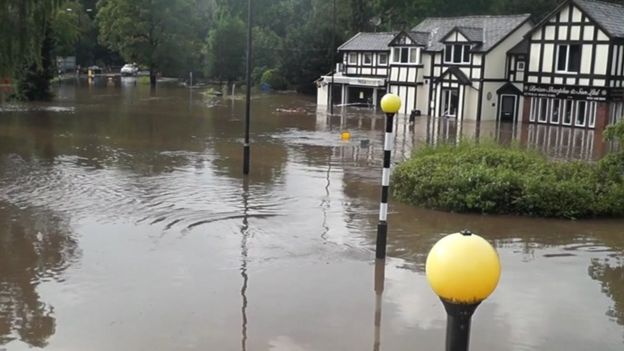 The workmen have had to pump 800,000 liters (176,000 gallons) of water from the new £290m dual carriageway – the A555 in Stockport, Greater Manchester.
It is the second time in a week the relief road linking the A6 at Hazel Grove and the M56 has been flooded.