What does New Retail of China mean?

 Edward Tse and Jackie Wang say market moves by Chinese firms like Alibaba, Tencent and JD.com show how key players are experimenting with various forms of tech-driven 'new retail' in the O2O world, making the industry more dynamic than ever
'Customer at the heart of Operations'
The reality is that he coined the name recently, in 2016. The changes he predicted are arriving so swiftly and so dramatically that each month seems to bring a big new preview of what retailing will look like everywhere, as China sets the pace for the rest of the world. Indeed, with millions of mom-and-pop stores now taking on new life as order-and-delivery stations for e-commerce, with food delivery platforms such as Hema fulfilling more than half of its orders online, and with mobile payments rising to more than 60 times the US level, wherever retailing is headed, China is already there (see Figure 1).
---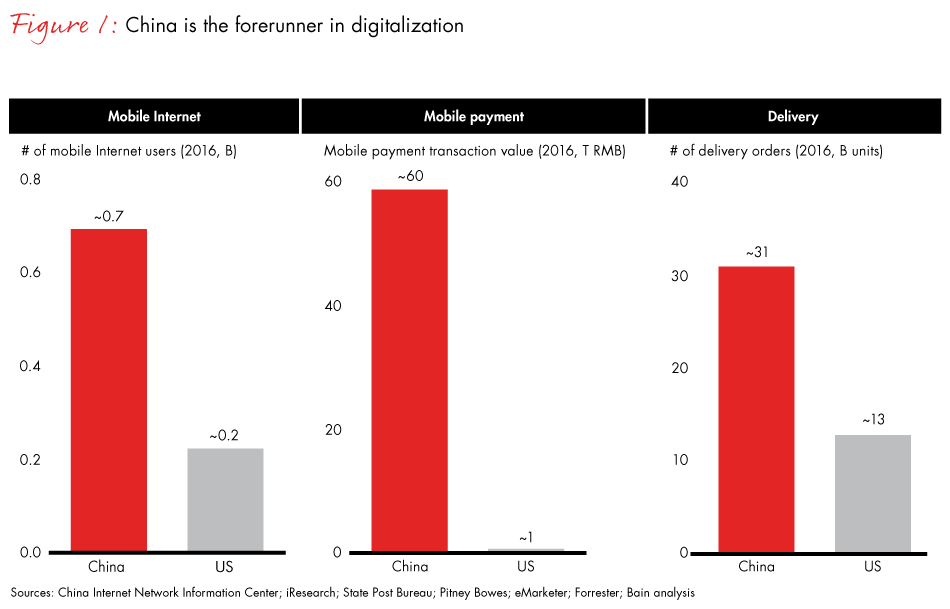 For brands hoping to sell in China, survival means moving equally fast to capture this future ahead of competitors, both incumbents and digitally savvy upstarts. It will not be enough merely to keep up. Brands will be required to get ahead and help shape the vast changes, even as they completely overhaul the rules of engagement. In a letter to investors, Alibaba CEO Daniel Zhang summed up the challenge when he called for using Big Data analytics to redefine the traditional core elements of retailing—consumers, merchandise and stores—and the relationship among those elements to upgrade current formats and create new retail occasions.
China's e-commerce platform, represented by Tmall, is evolving to establish New Retail infrastructure, empowering brands with data. Leading brands are gaining an edge by using the emergence of New Retail as an occasion to build a new consumer-centric model while at the same time creating operations that are more efficient.
Consider the fundamental changes and ways that the best brands are responding (see Figure 2).